🎉 FLASH SALE! 🎁 BUY ONE, GET ONE FREE (CODE: BOGO) - OFFER VALID FOR:
The Postpartum Journal
Regular price
Sale price
$37.00
Unit price
per
Sale
Sold out
What's Included:
→ Softcover Postpartum Journal
→ 43-Days of Therapist-led Video Guidance
→ Bonus Gift: 2-Day Emotions Workshop
Free Shipping & 100% Money-Back Guarantee
Description

Navigate Your Postpartum Journey with The Postpartum Journal: A 43-day therapist-led guided journaling program, including video guidance and a beautiful softcover journal.


The Postpartum Journal is a comprehensive guide designed to support new and expectant mothers during the postpartum period. It provides evidence-based and actionable psychoeducation with a focus on mental health.

Through daily guided prompts, video lessons, a supportive community, and an easy-to-follow process, you gain a better understanding of your postpartum identity, learn how to navigate the emotional, physical, and social changes that come with motherhood, and enhance your interpersonal relationships and overall well-being.


What's Inside

A highly optimized 43-day framework for a smoother transition into motherhood

Reduced feelings of isolation and anxiety, increased feelings of empowerment and confidence as a new mother.

Therapist techniques show you how to navigate the complexities of the postpartum period

Beautiful lay-flat 7.5" x 9.5" soft cover format, 105 pages

Instant digital access including PDF of the journal for Mobile & Desktop devices

A supportive community of therapists and other journal users

43-days of therapist-led follow along videos for daily guidance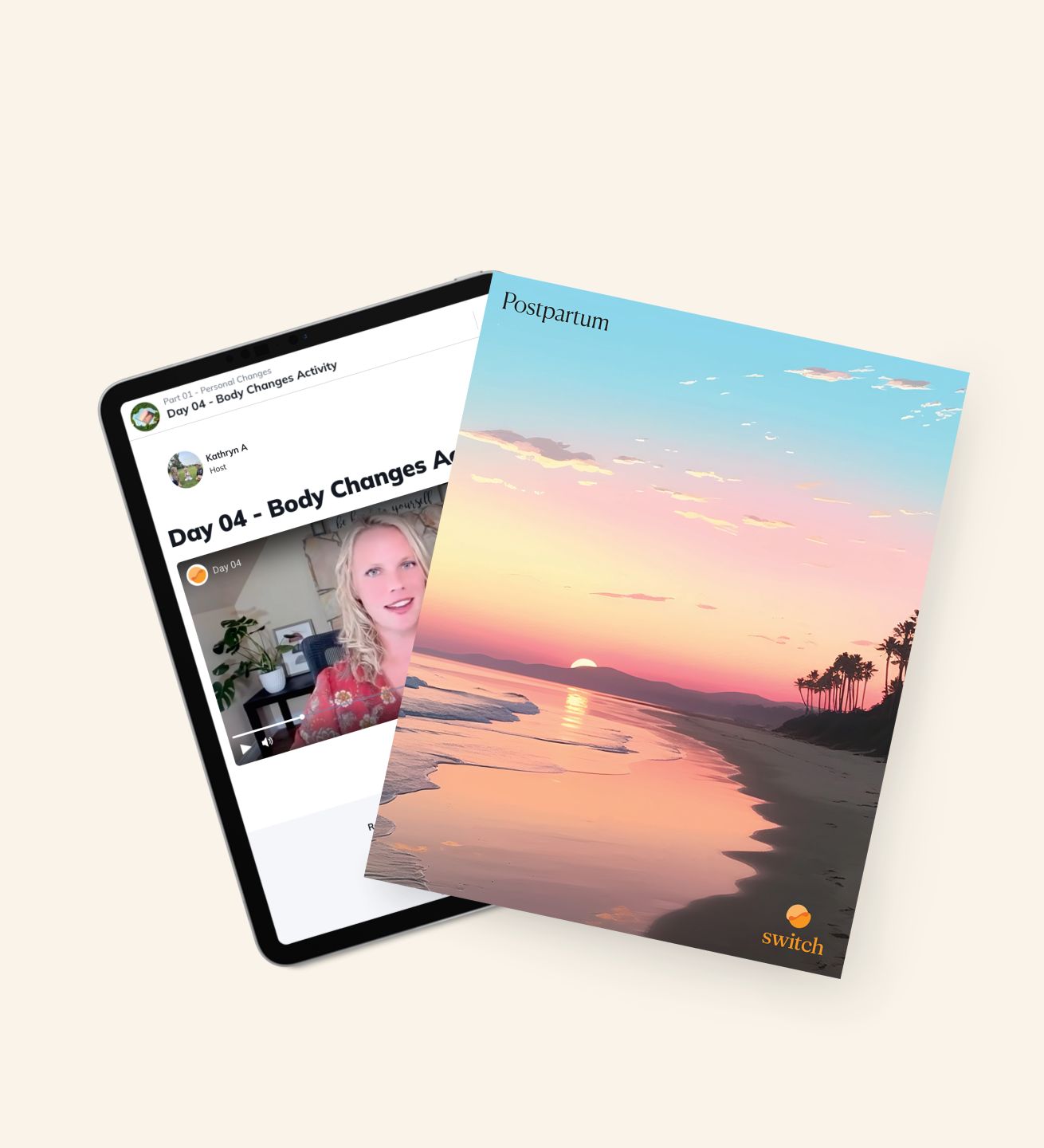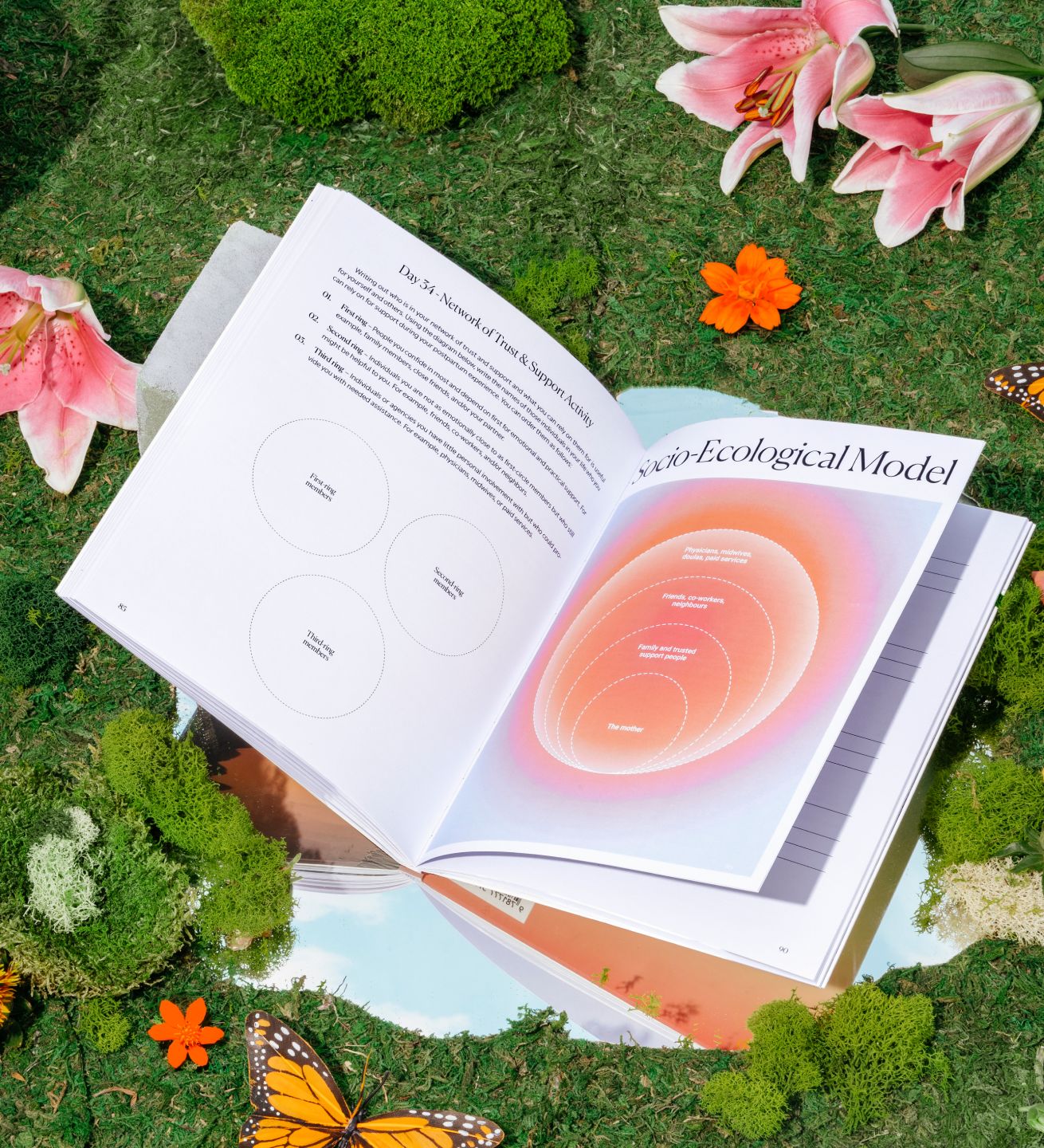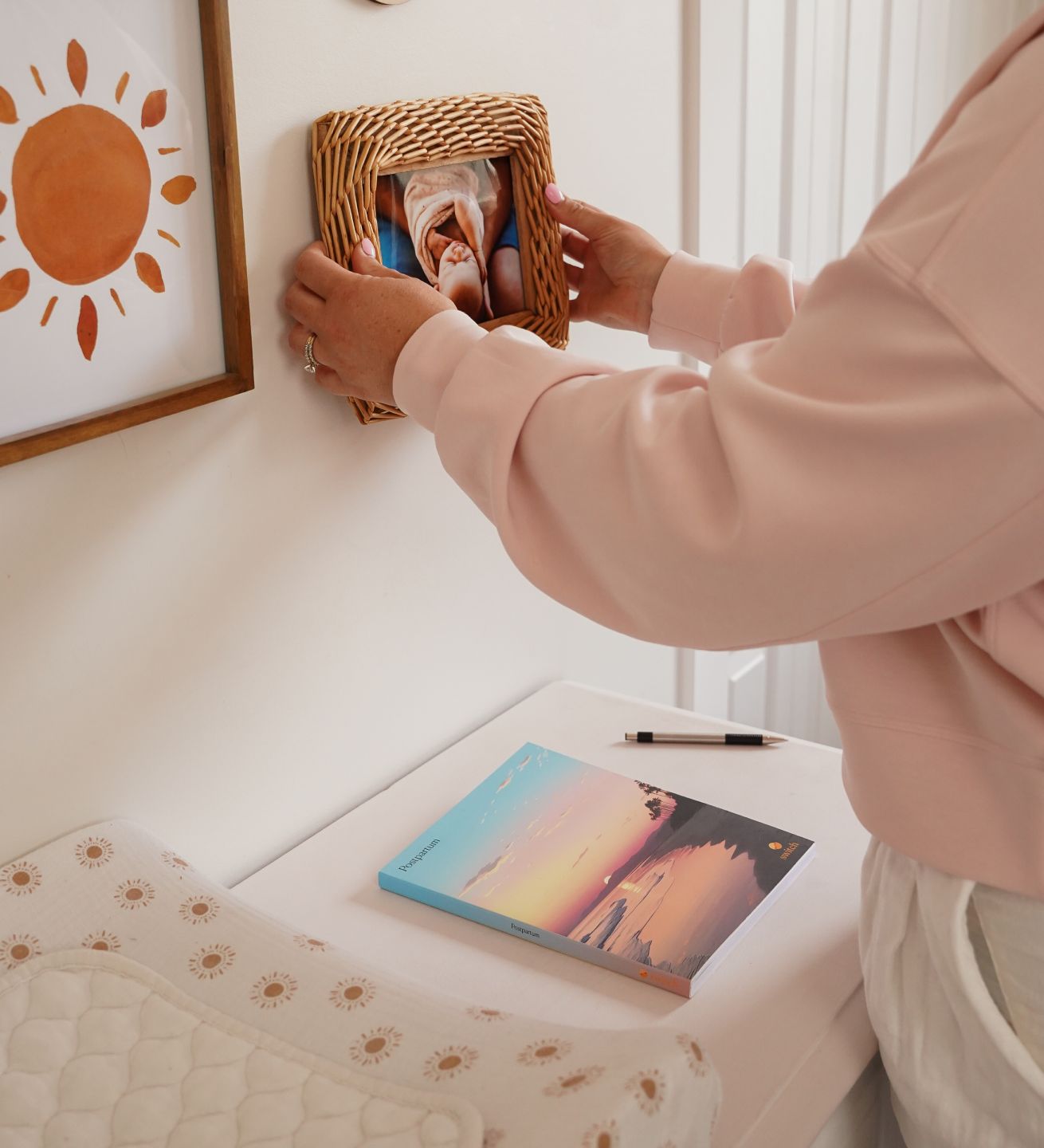 "A product that, as a therapist, I personally recommend for my clients. It's filled with useful tools to support new and expectant mothers, I haven't seen anything else like it!"

HAILEY K. | CLINICAL COUNSELLOR
Are you a new or expectant mother?
The postpartum period is like a storm, full of emotional highs and lows, physical changes, and social shifts.

It can often leave you feeling lost and overwhelmed. The problem is, most people don't talk about this. They focus on the physical recovery after childbirth but ignore the emotional and psychological complexities.

This lack of understanding and support can lead to feelings of isolation, anxiety, and even postpartum depression.
Support your emotional well-being
The Postpartum Journal is designed to support your emotional and psychological well-being during the postpartum period.

By acknowledging and understanding the complexities of the postpartum period, you can reconcile your prepartum and postpartum identities and transition smoothly into motherhood.

This program is for you if:
You are a new mother navigating the challenges of the postpartum period
You are an expectant mother preparing for the transition into motherhood
You are experiencing emotional turmoil during the postpartum period
You struggle to reconcile your identity before and after childbirth
You feel overwhelmed by the physical, emotional, and social changes that come with motherhood
You are concerned about the potential for postpartum depression or anxiety
You'll grow in these areas:

How The Postpartum Journal Works
Scan the QR code to access your videos, and start your transformation with confidence knowing you're supported every step of the way.
Our expert therapist will guide you through each day's theme, providing insightful perspectives and actionable advice.
Track your progress, celebrate your transformation, and take pride in the steps you take each day.
Part 01 - Personal Changes
Becoming a mother is much more than just giving birth. It marks a significant shift in your identity, an upending of your routines, and in some ways, changes almost everything about your personal life. Navigating potential conflicts between an old identity and a new identity as a mother can be challenging. Equally, disruptions to established routines like sleeping, eating, and personal time can be difficult to manage and can have a negative impact on your mental health. How you meet new expectations and plan for these changes is an ongoing and personal journey.

In this section, we will explore the personal changes that many mothers experience during the postpartum period. Some of the topics will be related to the identity changes you will experience, as well as the formation of your identity as a mother. We also discuss the changes to your body and routine that you might experience, how to balance and plan for these new changes, and strategies to realistically manage the expectations you place on yourself.

Part 02 - Emotional Changes

Motherhood is often cited by women as being one of the most challenging and rewarding experiences of their lives. It's no surprise, then, that this transformational experience is accompanied by a range of intense emotions. Many of these emotions are positive—such as joy, surprise, and love. However, many of the emotions you may experience can be (surprisingly) negative; anxiety, depression, or guilt, for example.

In this section, we will explore the many emotional changes women tend to undergo throughout the postpartum period. Many of the topics will cover negative emotions like postpartum depression and postpartum anxiety (e.g., mom guilt). We also discuss ways to recognize rapid changes in your mood that might occur, as well as signs you may be in emotional distress. We conclude with a section on spotting the joy in your postpartum period. The postpartum period can be a wild and busy time, so it's important that we recognize the positive when it happens.

The postpartum period can be an exciting and vibrant time, marked by the introduction of a brand- new family member. However, the inclusion of this new family member can also make this time challenging and lonely. Existing relationships can change and may become strained, and it can be hard to form new relationships. Figuring out who to ask for help and what to ask for can also be difficult.

In this section, we will explore the social changes that may happen during your postpartum period and discuss the feelings of loneliness and isolation that often occur during this time. We will also discuss how to establish a network of trust, how to make the most of your support system, what kinds of changes may happen to your relationships, and how to set boundaries with those around you.

The Calm Planner also includes regular distress monitoring, which involves regularly checking in with oneself to assess one's level of distress or anxiety over a certain period of time.

By becoming more aware of their stress levels, individuals can take proactive steps to manage stress and anxiety, and develop a greater sense of control over their mental health and well-being.