Hardcover Self-Love Journal
91-Days of Therapist-led Video Guidance
Bonus Gift: 2-Day Emotions Workshop
Discover your inner strengths and overcome self-doubt in just 21 days or your money back.

The Self-Love Program is a comprehensive, evidence-based 91-day program designed to help individuals cultivate self-love, self-acceptance, and self-esteem, and improve their mental and emotional well-being. It includes a beautiful physical hardcover journal, and daily video guidance.
A highly optimized 13-week framework for awakening your inner strength and self-love
A weekly focus and dedicated community to keep you on track
Psychologist-backed strategies you can trust
A beautiful A4 hardback, 134 page, spiral-bound journal with calming, colorful designs
Instant digital access including PDF of the journal for Mobile & Desktop devices
Beautiful writing pages to reframe negative thought patterns
Over 21 hours of therapist-led follow along videos for daily guidance
Free fast shipping anywhere in the USA.


Same-day shipping for orders placed before 12pm Mon-Fri. Otherwise, domestic US orders ship from Nevada, arriving in 1-5 business days.
"A program that, as a therapist, I personally use and recommend for my clients. It's backed by research and is filled with useful tools for mental health."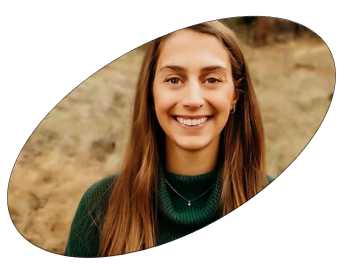 HAILEY K. | CLINICAL COUNSELLOR
Struggling with chronic stress due to negativity?
Are you caught in a cycle of toxic relationships or struggling to set healthy boundaries?
Have you been struggling to recognize your worth and underestimating your abilities, ultimately holding you back from realizing your true potential?
Do you self-sabotage, focusing on your flaws rather than recognizing and harnessing your strengths?
Become unshakeably positive
Embark on a transformative journey towards self-love and self-acceptance with our 91-day Self-Love Program.

Experience improved self-esteem, reduced stress and anxiety, and increased self-compassion.

Cultivate healthier, more positive relationships with others and yourself. Access your own in-home therapist-led program, without the therapy price tag.
This program is for you if:
You want to unlock your full potential
You want to embrace mindfulness for stress reduction and peace of mind
You're ready to break free from self-limiting beliefs
You want to cultivate a deeper sense of self-worth and confidence
You'll grow in these areas:

How The Self-Love Program Works
Start your transformation with confidence, knowing you're supported every step of the way.
Our expert therapist will guide you through each day's theme, providing insightful perspectives and actionable advice.
Track your progress, celebrate your transformation, and take pride in the steps you take each day.
Banish Negativity & Find Self
-Love
91 Unique Layouts
For an engaging experience on every page.
Beautiful new design
Inspiring and guiding you through 'the work', by design.
Psychologist-backed
Like a private session with an expert, every time.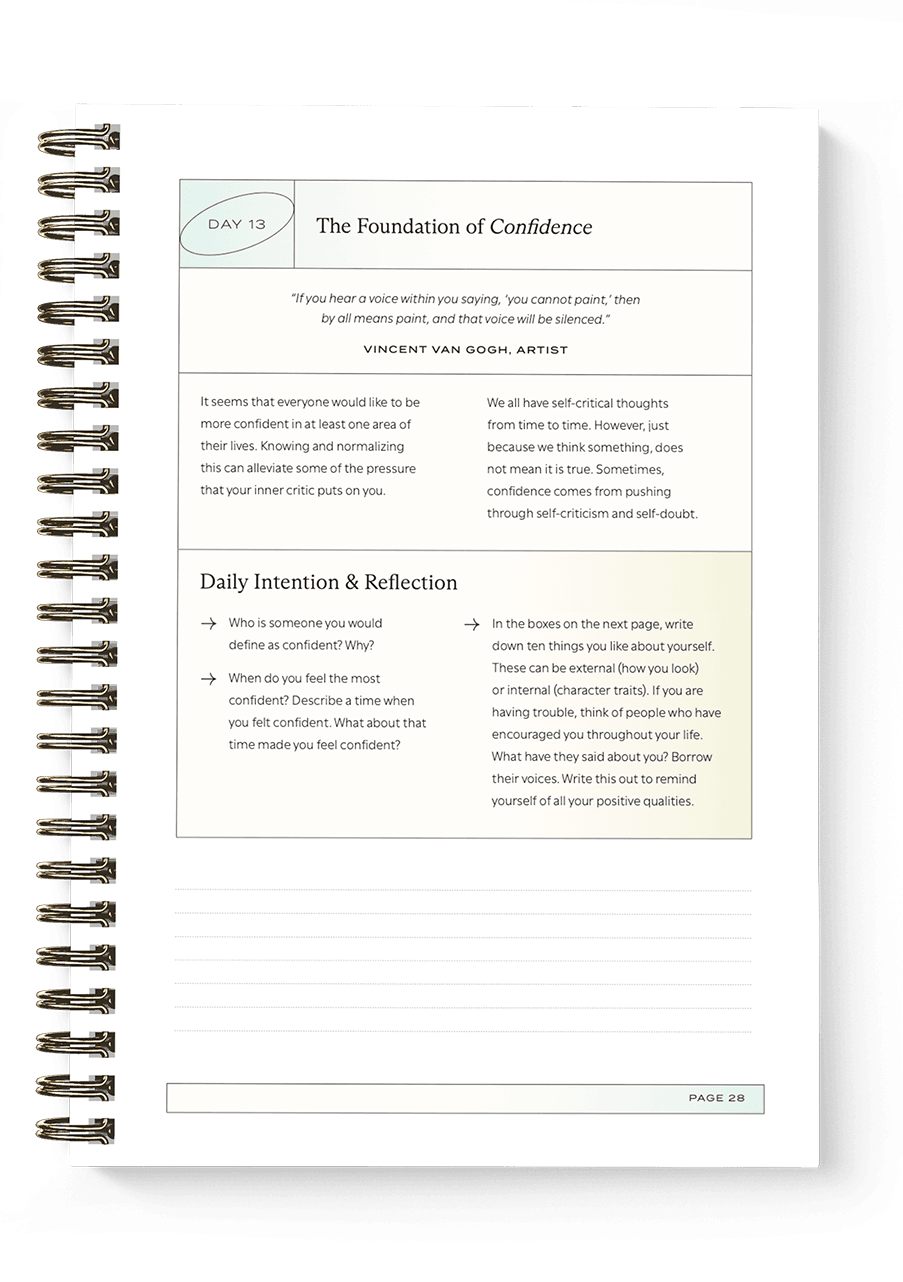 Weekly Focus
Motivating your writing and guiding you forward.
Daily Questions
Designed to increase self-awareness and spark self-discovery.
Data-Driven
Grounded in the work of over 20+ clinical therapists, social workers, physicians, psychologists, and researchers
Our journal's unique, progressive structure was engineered by top psychologists and behavioral scientists at academic institutions such as
Week 01 - Choosing Self-Kindness
Begin your journey by acknowledging the power of self-kindness over self-judgment. Through a therapist-led video, learn to embrace your imperfections and treat yourself with the compassion you deserve. Your digital journal will accompany you, providing a space to reflect and internalize these newfound perspectives.
Week 02 - Embracing Common Humanity
Discover the shared human experience of imperfection and vulnerability. Engage with the concept of common humanity, realizing that you are not alone in your struggles. With insights from our therapist, you'll find comfort in your journey towards self-love. Reflect in your journal about how embracing this shared human experience impacts your self-perception.
Week 03 - Journey into Mindfulness
Immerse yourself in the realm of mindfulness, a powerful practice that encourages you to be present in each moment. Through a guided mindfulness exercise, you'll cultivate a heightened awareness of your thoughts and emotions. Record your experiences in the digital journal, recognizing the role of mindfulness in your path to self-love.
Week 04 - Self-Acceptance
Delve into the profound practice of self-acceptance. With guidance from our therapist, explore the layers of your identity and experiences that shape you. Learn to embrace your whole self, acknowledging both strengths and areas for growth. In your digital journal, reflect on the journey towards self-acceptance and how it intertwines with your path to self-love.
Immerse yourself in the transformative power of gratitude. Through therapist-led exercises, recognize the beauty in both the ordinary and extraordinary aspects of your life. Cultivate a daily gratitude practice that uplifts your spirit and nurtures self-love. Share your reflections in your digital journal, focusing on how gratitude enhances your relationship with yourself.
Week 06 - Self Compassion Myths
Challenge misconceptions surrounding self-compassion and explore the truth behind this empowering practice. Our therapist will debunk common myths, allowing you to grasp the essence of self-compassion more deeply. Reflect on these revelations in your digital journal, contemplating how dispelling these myths can reshape your journey towards self-love.
Week 07 - Patience & Self Forgiveness
Cultivate the twin virtues of patience and self-forgiveness. With guidance, understand that growth takes time and setbacks are part of the process. Learn to extend forgiveness to yourself, fostering healing and growth. Your digital journal becomes a testament to your evolving relationship with patience, forgiveness, and ultimately, self-love.
Week 08 - Attitudes Towards Challenges

Explore your attitudes towards challenges and setbacks. Our therapist will help you reframe difficulties as opportunities for growth, resilience, and self-discovery. Engage with your digital journal to document this shift in perspective and how it contributes to your journey of cultivating self-love in the face of adversity.

Week 09 - Establishing a Self Compassionate Lifestyle - Part 01

Embark on a multi-week exploration of integrating self-compassion into your daily life. In Part 01, our therapist will guide you through foundational practices that nurture self-love. Experiment with these practices and record your experiences in your digital journal, laying the groundwork for a more compassionate relationship with yourself.
Week 10 - Establishing a Self Compassionate Lifestyle - Part 02

Building upon the foundation, Part 02 introduces additional practices for self-compassion. Our therapist will assist you in developing resilience in the face of challenges. Use your digital journal to reflect on how these new tools are shaping your evolving self-love journey.
Week 11 - Establishing a Self Compassionate Lifestyle - Part 03

Delve even deeper into your journey of establishing a self-compassionate lifestyle. In Part 03, our therapist will help you explore how self-compassion impacts your relationships with others. Share your insights in your digital journal, observing the connections between self-love and your interactions with the world.
Week 12 - Establishing a Self Compassionate Lifestyle - Part 04

As your journey nears completion, Part 04 focuses on sustaining your self-compassionate practices. Our therapist will guide you in creating a personalized plan for ongoing self-love and growth. Use your digital journal to outline your plan and reflect on the transformation that has taken place throughout this process.
Week 13 - Bringing It All Together

Reflect on the culmination of your transformative journey. Look back on the insights, practices, and shifts you've experienced over these weeks. Our therapist will help you synthesize your progress and offer guidance for continuing your self-love journey beyond this program. Your digital journal becomes a testament to your evolution, serving as a reminder of your commitment to self-love and compassion.

Create Positive Habits, Bundle Up + Save
The self-discovery collection: three journals to unlock your potential
1x Self-Love Journal (Best seller)
1x Emotions Journal (New!)
1x Boundaries Journal (Back in stock!)
2x Free Gifts at Checkout ($74 value)