Understand Emotional Blocks
Regulate Emotional Responses
Enhance Emotional Communication
Enrich your relationships, control your emotions and boost your self-awareness within 21 days - or your money back.

Backed by science and created with expert therapists, the new Emotions Journal includes 9 weeks of guided prompts and psychoeducation to help you regulate your emotions.

"I see new patients all the time, no matter why they come in, typically our first sessions are all about learning emotional regulation. I'm happy to finally have a tool that can quickly and efficiently help with this work."
BARB E. | Clinical Counselor
Expert Strategies to Tame Emotional
Stress
67 Unique Layouts
For an engaging experience on every page.
Beautiful new design
Inspiring and guiding you through 'the work', by design.
Psychologists backed
Like a private session with an expert, every time.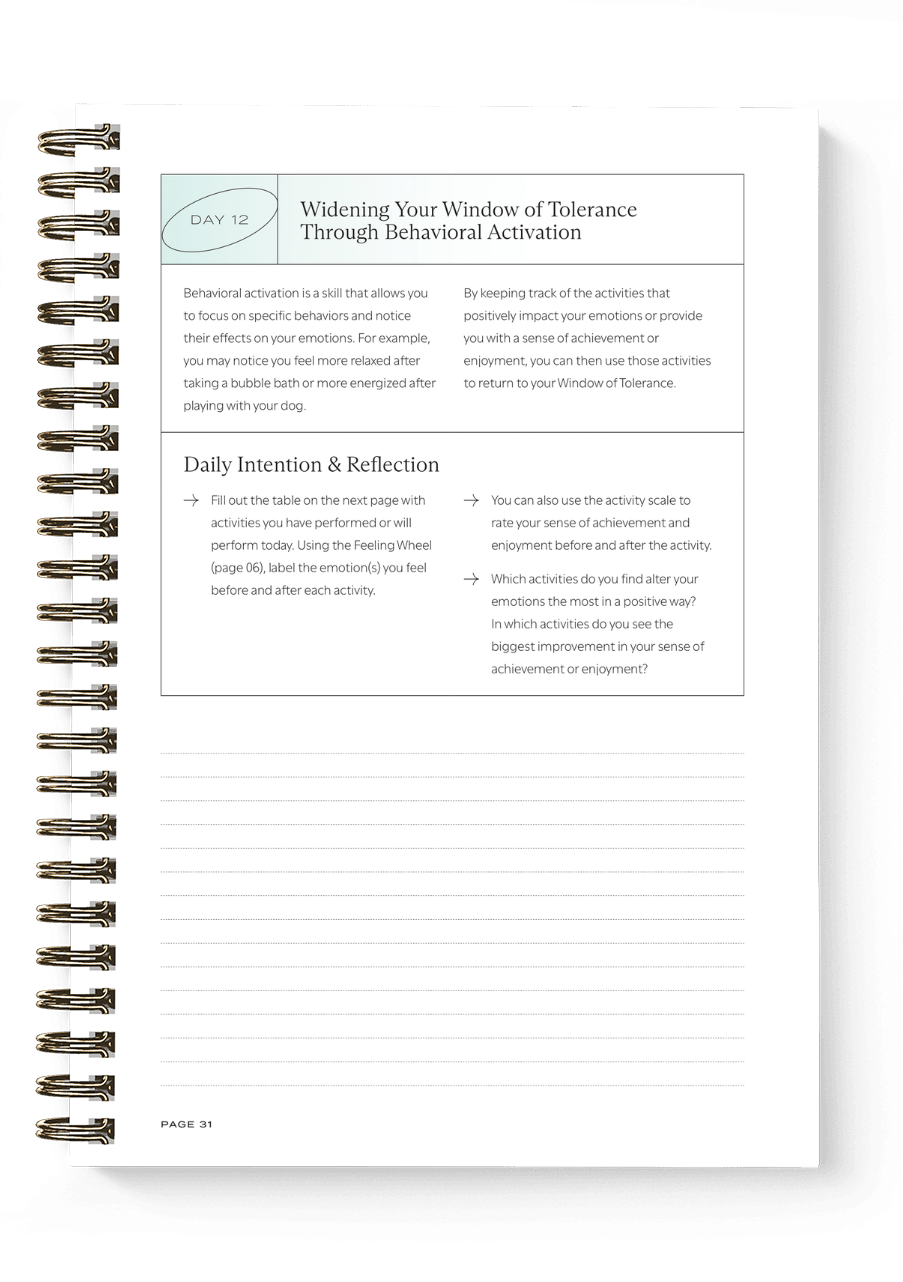 Weekly Focus
Motivating your writing and guiding you forward.
Daily Questions
Designed to increase self-awareness and spark self-discovery.
Data-Driven
Grounded in the work of over 20+ clinical therapists, social workers, physicians, psychologists, and researchers
Our journal's unique, progressive structure was engineered by top psychologists and behavioral scientists at academic institutions such as
Cognitive Behavioral Therapy-based prompts
Cognitive behavioral therapy (CBT) is aimed at striking balance between how individuals think, feel, and act, which can resolve and mitigate feelings of stress and anxiety.

The Emotions Journal integrates CBT-focused techniques and activities, like breaking Anxiety Avoidance Loops, to help individuals counter emotional dysregulation and create positive and consistent positive emotional associations.
Emotional literacy is the ability to recognize the emotion we are feeling, name it, and describe what is happening to us emotionally in order to move through an experience.

The Emotions Journal integrates techniques and knowledge, like Affect Labeling and Opposite Action, to improve individuals' emotional literacy.
The Embodied Emotional Response
Emotions affect the brain, but also the long-term and short-term physiology of the body. Emotional responses are often embodied in the form of increased heart rate, rapid breathing, and sweating, which can feed back into the emotional response.

The Emotions Journal helps readers to identify and self-monitor these embodied emotional responses and implement strategies to address them.
The Window of Tolerance describes the optimal zone for individuals to experience and regulate their emotions, without experiencing hypoarousal or hyperarousal.

The Emotions Journal teaches readers how to identify the boundaries of their Window of Tolerance and strategies for both widening and staying within their Window of Tolerance.
Maslow's Hierarchy of Needs
The ability to regulate emotions is tightly linked to whether our needs are being met. Maslow's Hierarchy of Needs describes the five types of needs that human beings must achieve to feel contentment.

The Emotions Journal uses this hierarchy as a framework to guide readers through identifying and addressing their current needs so they can optimally regulate their emotions.
Psychological Flexibility
Being psychologically flexible means being able to adapt our thoughts and behavior to situations so that we can avoid hurting ourselves or others and continue to represent our values and pursue our goals.

The Emotions Journal integrates skills and techniques, such as the Laws of Emotional Mastery, to teach readers how to improve their psychological flexibility.
CREATE POSITIVE HABITS, BUNDLE UP AND SAVE.
The Self-Discovery Collection: Three Journals to Unlock Your Potential
3 Journals + 3 Free Gifts for $76
1x Self-Love Journal

(Best Seller)
1x Emotions Journal

(New!)
1x Boundaries Journal

(Back In Stock!)
3x Free Gifts at Checkout

($86 Value)
Special Bundle - Save $57 Today!
Retail:

$133


On Sale:

$76
+FREE Shipping & Handling
Claim Discount