(Bonus Gift) The Boundaries Masterclass
Regular price
$37.00
Sale price
$0.00
Unit price
per
Sale
Sold out
🌻SPRING SALE - Buy One Get One Free Today!
Add Any Two Items To Cart
+ FREE GIFT: 2-Day Emotions Workshop
Instant Access & 100% Money-Back Guarantee
Description

Enhance your relationships, establish healthy boundaries, and improve self-awareness through this 30 day guided series. Backed by science and created with expert therapist, Hailey Kanigan, follow along as she goes through daily lessons combined with introspective journaling prompts.


 

By establishing clear boundaries and nurturing self-awareness, you can empower yourself to navigate life's complexities with confidence, assertiveness, and authenticity. Enhance your ability to create healthy boundaries and delve into self-exploration, equipping yourself with the tools to navigate challenges, honour your needs, and cultivate fulfilling relationships.

 

**Login details are sent via email - If you do not receive your login information within 20 minutes, please contact support@switchresearch.org**



What's Inside

29 -Days of guided journaling with licensed therapist Hailey K.

105 pages, beautiful digital journal with calming, colorful designs

Certified Therapist guiding every class

Exclusive access to our private community to share experiences, and ask questions

Build unwavering confidence, banish any lingering guilt, and foster stronger connections with others

Lifetime Access to the videos from any device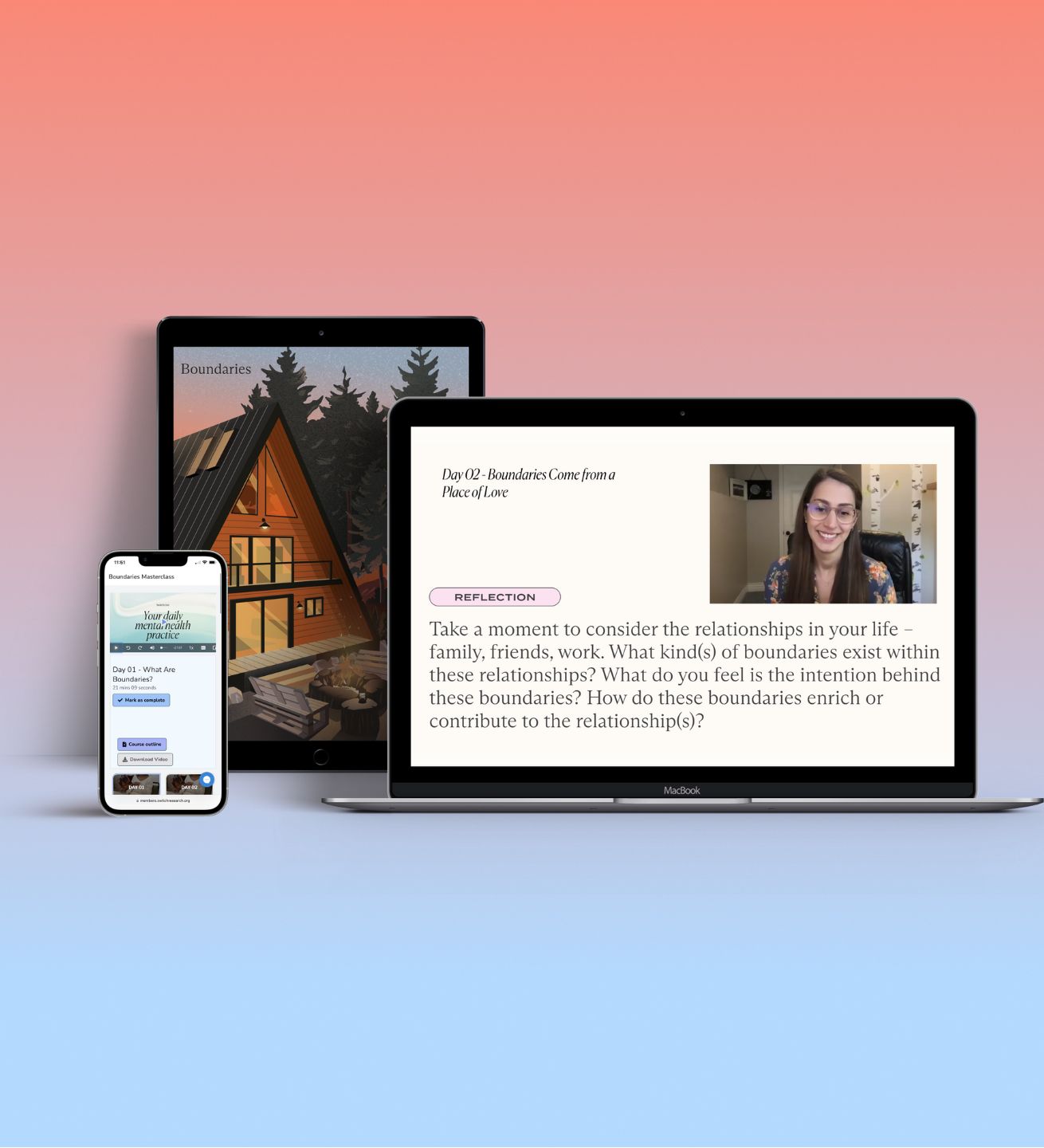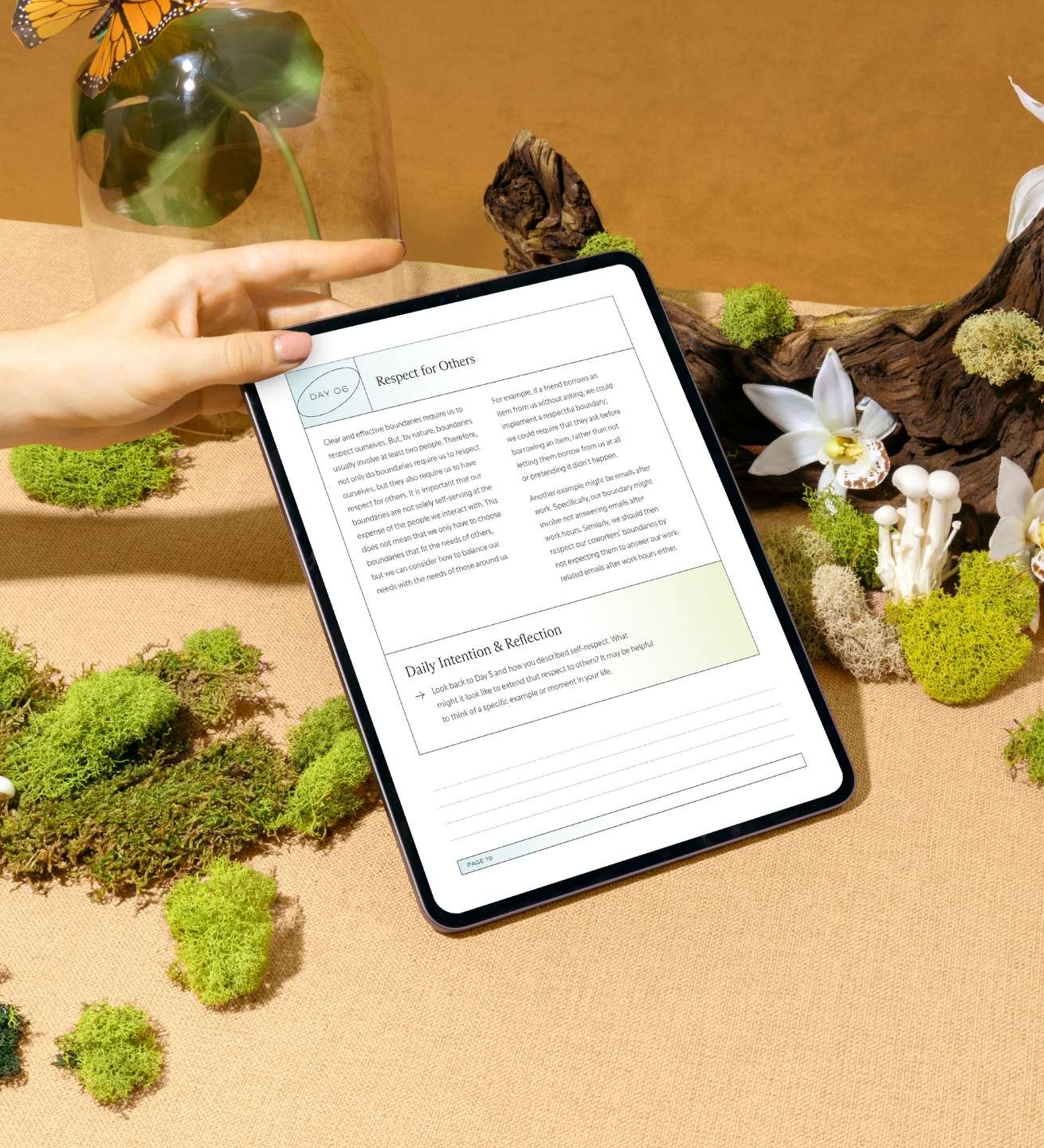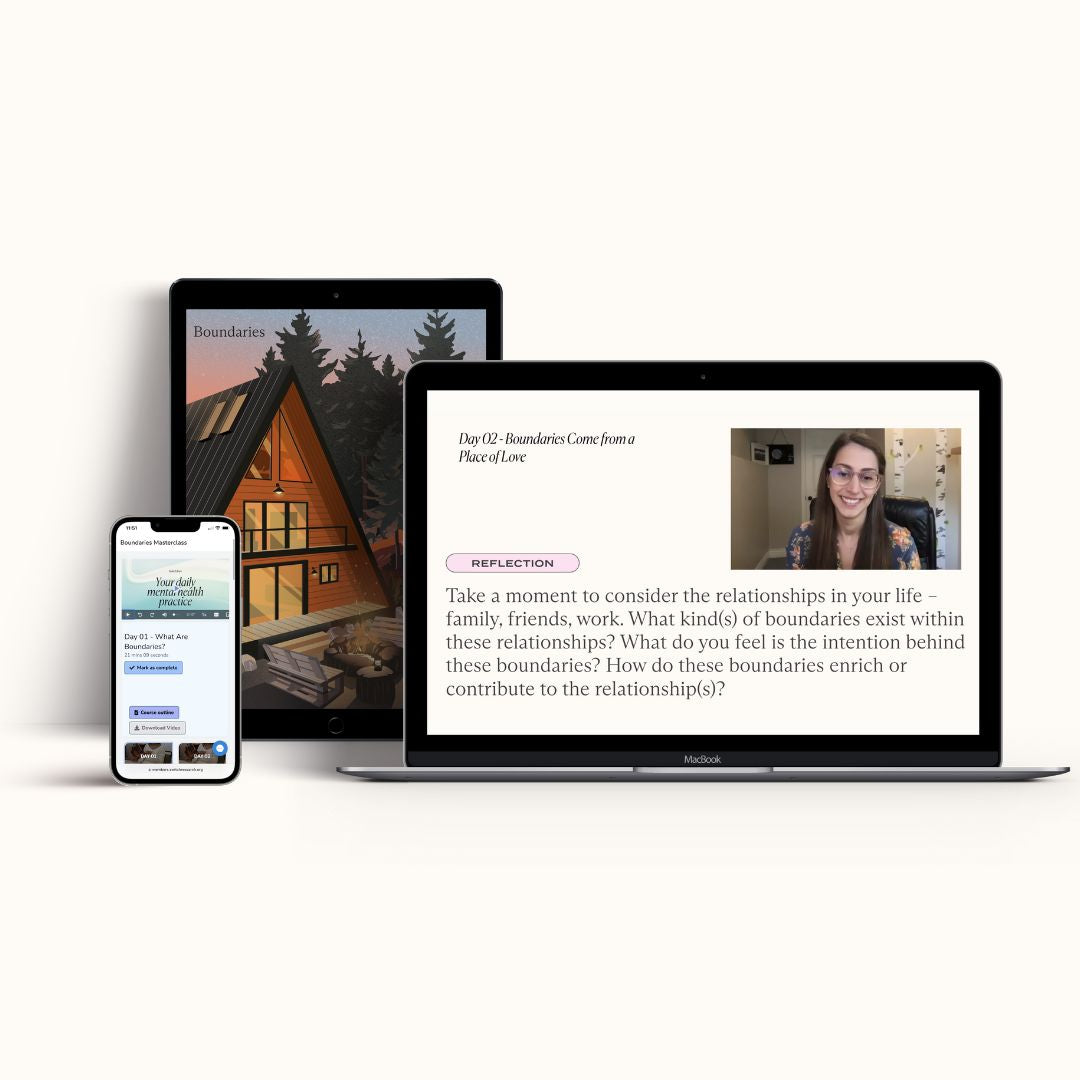 Who should take this course?
→ Individuals who struggle with maintaining healthy boundaries and often find themselves overwhelmed or taken advantage of by others
→ People who have difficulty asserting themselves or communicating their needs effectively in their relationships
→ Those who have a history of codependent or enmeshed relationships and want to establish healthier patterns
→ Individuals who feel guilty or anxious when setting boundaries or saying "no" to others
→ People who want to develop a stronger sense of self-worth and confidence in their interactions with others
→ Those who desire to prioritize self-care and self-respect by learning how to establish and maintain personal boundaries
Used and trusted by therapist and universities
A product that, as a therapist, I personally use and recommend for my clients. It's backed by research and is filled with useful tools for mental health.
DR. DONNA C. | PSYCHOLOGIST
Learn to set boundaries like a pro
Proven formulas for self-healing through emotional development.
PART 01
Clarity
Reflect on your current boundaries and consider how they impact your life. Get clear on your relationships and consider where you can set boundaries to help you live the life you want.
PART 02
Communication
Learn strategies to help communicate your boundaries with others, building your self-respect and confidence.
PART 03
Commitment
Learn how to stick to your boundaries, respect other people's boundaries, and stay in control of your life.
Will it work for me?
Are you tired of feeling like you're always giving and never receiving?
Learn how to set healthy boundaries and protect your mental well-being. You'll finally be able to put yourself first without feeling guilty.
Are you worried that boundary setting might ruin a relationship?
The truth is, setting healthy boundaries is essential to any healthy relationship - with yourself, and with others. Learn how to handle common objections and stay committed.
Are You Ready to Make a Change?
It's time to protect your time and energy, take back control and end unwanted intrusion.