Self-Talk Journal (Digital Download)
Regular price
Sale price
$19.95
Unit price
per
Sale
Sold out
🌻 SUMMER SALE - Buy One Get One Free Today!
Add Any Two Journals To Cart
(Regular $39.95 $9.95 each)
Free shipping on all orders over $50
Description

**THIS IS FOR THE DIGITAL ONLY VERSION OF THE SELF-TALK JOURNALS, IMMEDIATELY AFTER PURCHASING YOU WILL RECEIVE A DOWNLOAD LINK SENT TO YOUR EMAIL**

Harness your inner voice to combat anxiety, improve your physical and mental health, and deepen your relationships with others. This 3-part series is a science-backed guide to gain an understanding of and control over the critical voice in your head.


Over the course of 13 weeks you'll learn how to utilize powerful tools and techniques, such as Cognitive Behavioral Therapy (CBT) to transform the way you interpret the world.



What's Inside

Therapist-backed tools to use at home

91 daily activities and prompts to transform your self-talk

A weekly focus to keep you on track

Exclusive access to our private FB group to share experiences, tips, and questions.

Access to weekly therapist led webinars to ask any questions

Two available download options - Optimized for Tablets or Print

Works with most PDF readers as well as ZoomNotes, NoteShelf, Notability, Drawboard and Xodo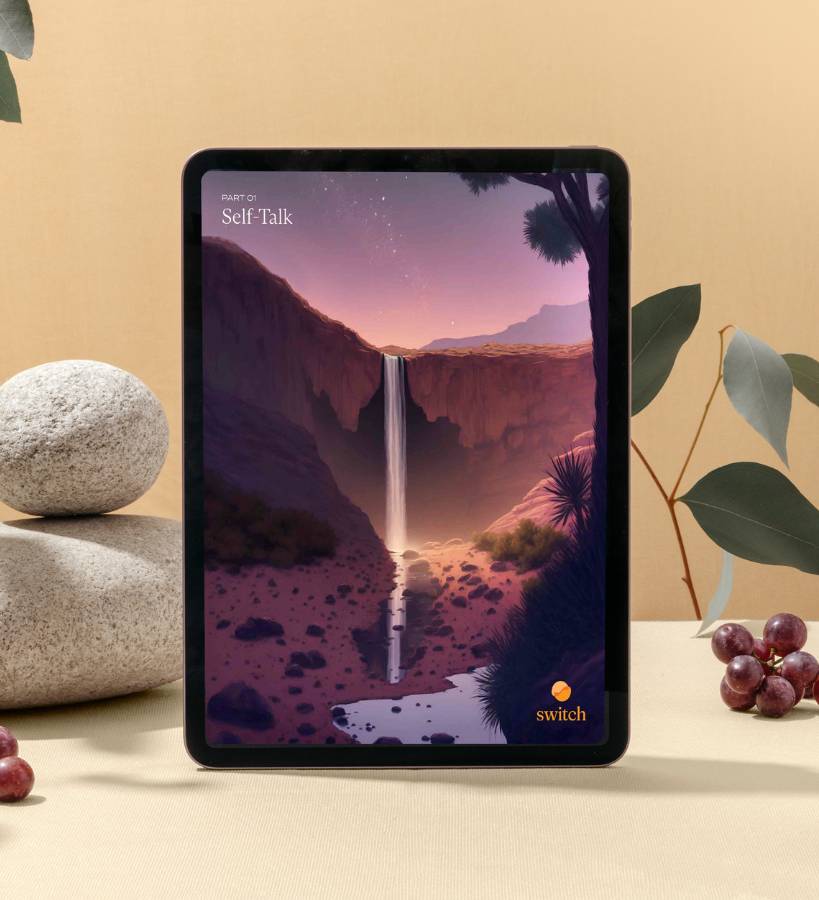 Used and trusted by therapist and universities
What a terrific accomplishment you've made! It's a wonderful tool, and I've found it useful for me in several ways! I will absolutely be recommending this to my colleagues and to my clients.
DR. MARISA TOMASIC | PSYCHOLOGIST
Three parts to improving your Self-Talk
Proven formulas for transformation through self-reflection and Cognitive Behavioral Therapy (CBT).
PART 01
Identify Your Inner Critic
Start by learning where your inner critic comes from. Over five weeks, you'll consider what kind of criticism you give yourself. We'll pinpoint exactly what triggers your critical voice so you can learn how to overcome it.
PART 02
Challenge Your Inner Critic
The next four weeks will help you challenge that inner voice. You'll find out how to gain perspective, face your inner critic with confidence, and build strategies to help ground and relax you.
PART 03
Replace Your Inner Critic
In this final section, you'll put everything together, learn how to reframe negative thoughts into positive ones, and build your confidence. Discover new ways to improve your positive self-talk and learn how to continue beyond the end of the journal.
Will it work for me?
Do you have a stubborn inner critic?
If you find yourself minimizing your abilities, criticizing yourself, and doubting your worth, this journal is for you.
Are you new to journaling?
Never face the blank page with our guided, daily prompts that help you build a daily habit toward positive self-talk.
Want to see what you're capable of?
Take back control of your inner voice and put an end to self-sabotaging thought patterns.